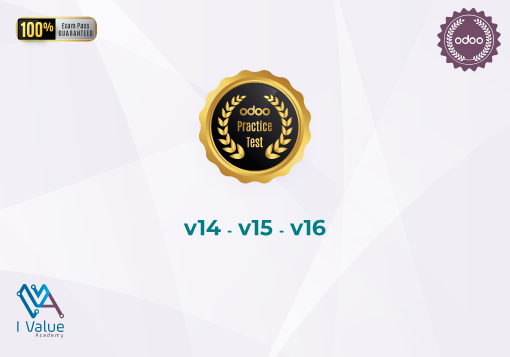 Odoo Certification Practice Test
Odoo Certification Practice Test

The exam will cover these subjects:
Website, eCommerce, Surveys, Marketing, CRM, Sales, Purchase, Project, Timesheets, Accounting, Inventory, MRP, Human Resources, Spreadsheet, Studio

1. You'll have 3 hours and 42 minutes to complete the 278-questions Practice Test I.
2. You'll have 2 hours and 30 minutes to complete the 187-questions Practice Test II.
Odoo 15
Odoo 13
Advanced
Odoo 14
Basic
Intermediate
Certification
Odoo Certification Practice Test I

Odoo Certification Practice Test II
The test will cover these modules: 

Website, eCommerce, Surveys, Marketing, CRM, Sales, Purchase, Project, Timesheets, Accounting, Inventory, MRP, Human Resources, Spreadsheet, Studio

Get Access!
Contact Responsible to enroll and participate in the Test.
ppd.ivalue@gmail.com
    +201001563033
Fees $40.00
Payment Options 465 Questions
Professional questions to build your knowledge.

Unlimited Attempts
Retry the test until you pass it.

Certificate
Get a Certificate when you pass the Practice test.

Exam Simulation
Practice in the same Odoo Exam environment.

Mobile Access
Access the test from your mobile at any time.

Answers Review 
Review your answers to strengthen your knowledge.